Tag Heuer has introduced a new smartwatch feature that will allow these devices to display the NFT collection owned by Tag Heuer customers. Tag Heuer has taken a step farther into the Web3 world by introducing this brand-new capability. The NFT will be visible on the smartwatch's display.
The corporation only recently began accepting cryptocurrency payments on its US website. The Tag Heuer Connected Calibre E4 smartwatch range will now include this revolutionary new feature and new functions.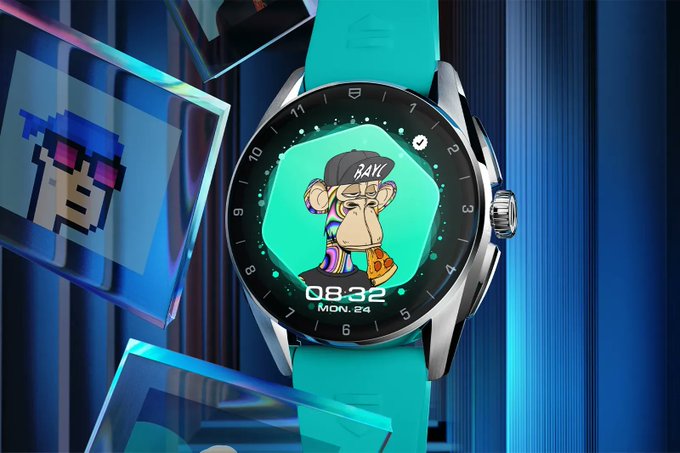 According to reports, current users of this watch collection will be able to add support for the feature via a free update available on Apple's App Store and Google's Play Store. According to the company's release, this series or collection of smartwatches is much more than simply a smartwatch, as all users need to access the NFT and display their digital asset collection as confirmation of ownership.
Tag Heuer's Crypto and Digital Ecosystem is Growing
Users can securely connect to crypto wallets such as MetaMask or Ledger Live with the new capability. This set of smartwatches will offer three different methods to display the time while allowing the NFT artworks to be displayed. These will be used to capture all of the data on Ethereum. Tag Heuer also stated that by doing so, it hopes to grow its digital ecosystem of apps and watch faces. Tag Heuer's in-house developers added these characteristics, including aspects of the brand's trademark and design signatures.
The Feature Also Includes NFT Transfer
The firm has also mentioned additional features in the latest release. One benefit is the ability to send numerous NFTs to their watches via a paired smartphone. Following that, one can select three designs to help display their digital assets. There's also the ability to tweak the photographs to make them fit nicely on the smartwatch's spherical screen. Tag Heuer had also cooperated with members of the community of the increasingly well-known NFT initiatives, such as Bored Ape Yacht Club and CLONE-X.