Faustin-Archange Touadéra, president of the Central African Republic, has announced that his nation's much-anticipated crypto hub will launch on July 3rd.
CAR's Crypto Hub Launch Date Revealed
"With Bitcoin as legal tender & inspiration, our country opens a new chapter in its inspiring journey towards a brighter future via blockchain tech," he wrote in his tweet.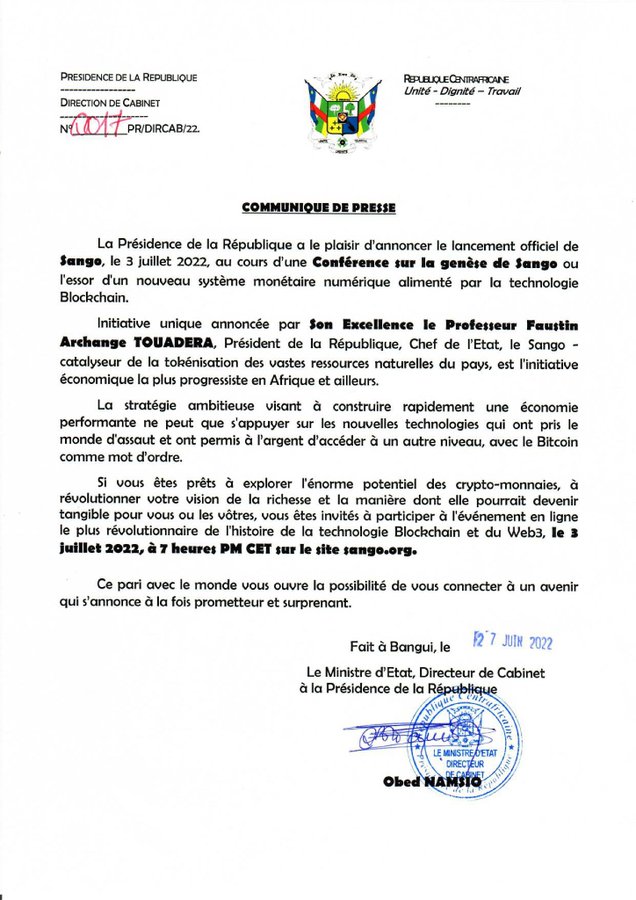 The Sango project's plans include building a "legal crypto hub" aimed at attracting global businesses and crypto enthusiasts and creating a virtual "crypto island," a special economic zone in the metaverse that will also have an equivalent space in the physical world.
Additional plans include establishing a crypto national bank, creating a state-sponsored lightning wallet, and exempting crypto exchanges from taxes. The project will also incorporate the "tokenization" of the country's natural resources.
Sango Genesis Event
The Central African Republic (CAR) plans to have a dedicated legal framework for crypto in place by the end of the year.
More will be revealed on July 3rd at 7 pm CET during the Sango Genesis Event, which the president called the most "revolutionary" conference in the history of "blockchain technology" and "Web 3."